First Wielder of the Binary Sword. Original owner of the Halo of Power.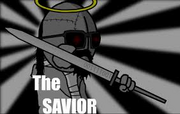 Professor Jebadiah H. Christoff, nicknamed Jesus, Jebus or The Savior, is the original owner of both the Halo of Power and the Binary Sword. After being fired from his job as a researcher during some sort of zombie scuffle at his old workplace, he donned the Halo and became a sort of god. He can summon zombies and move things via telekinesis. He is an enemy of Hank J. Wimbleton (who he killed several times, and he was killed by once), Tricky (who he killed once) and The Auditor (who has killed him once). He is a resident of Hank's Nevada.
Ad blocker interference detected!
Wikia is a free-to-use site that makes money from advertising. We have a modified experience for viewers using ad blockers

Wikia is not accessible if you've made further modifications. Remove the custom ad blocker rule(s) and the page will load as expected.